Religion: Episcopalian
Caesar Rodney on Founding Fathers Wiki Page


Caesar Rodney Biography


Caesar Rodney, the first of the delegation from Delaware, was a native of that state, and was born about the year 1730. His birth-place was Dover. The family, from which he was descended, was of ancient date, and is honorably spoken of in the history of early times. We read of Sir Walter De Rodeney, of Sir George De Rodeney, and Sir Henry De Rodeney, with several others of the same name, even earlier than the year 1234. Sir Richard De Rodeney accompanied the gallant Richard Coeur de Lion [Richard the Lion Heart] in his crusade to the Holy Land, where he fell, while fighting at the siege of Acre.

In subsequent years, the wealth and power of the family continued to be great. Intermarriages took place between some of the members of it, and several illustrious and noble families of England. During the civil wars, about the time of the commonwealth, the family became considerably reduced, and its members were obliged to seek their fortunes in new employments, and in distant countries.
... [Read FULL Biography]



Caesar Rodney Genealogy

Parents:
Caesar Rodney (____ - 1746)
Elizabeth Crawford Rodney (____ - 1763)


Events in the life of Caesar Rodney
Date
Event

---

1728 10/07
Birth of Caesar Rodney
1784 06/29
Death of Caesar Rodney
... View Founding Father Timeline


Picture of Caesar Rodney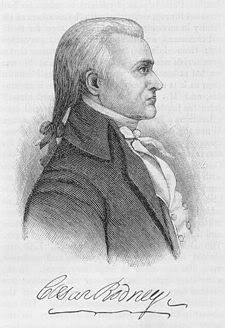 Videos about Caesar Rodney
Caesar Rodney
A brief highlight on the life of Caesar Rodney, a signer of the Declaration of Independence.
Biography for Caesar Rodney
(1728 - 1784)
Biography for Caesar Rodney
(File Size: 13.82K)
...
More from The Digital Public Library of America
Article/Blog Entries
The
Continental Association
, often known simply as the "
Association
", was a system created by the First Continental Congress on October 20, 1774, for implementing a trade boycott with Great Britain. Congress hoped that by imposing economic sanctions, Great Britain would be pressured to redress the grievances of the colonies, and in particular repeal the Intolerable Acts passed by the British Parliament. The Association aimed to alter Britain's
---
Websites about Caesar Rodney
Quotes by Caesar Rodney
Tweet I have supposed that a provision in our laws, positively adopting this principle of the common law, to a correct extent, was very much to be desired, as you know we have always disputed the existence of a Common law jurisdiction in the Courts of the United States.
Tweet and let me tell you that it is Honorable for a man to be punctual in the discharge of every public trust.
Tweet Burr has been held to bail in the sum of $10,000. on the charge of preparing & setting on foot an expedition against Mexico. The C. Justice stated that there was sufficient evidence of Burr's treasonable intentions, but not of an actual assemblage of men & that at the ensuing term, if that fact would be established, an indictment might be found against him for treason, when he appeared in obedience to his recognizance.
Tweet But when you consider that e are petitioning and dressing the august body the great legislative of the empire for redress and grievances; that in order to point out those grievances it was likewise necessary to set forth the Liberty we have, and out to Enjoy, (as free born Englishmen) according to the British Constitution.
Tweet ... [Independence] is determined by the Thirteen United Colonies, without one dissenting Colony. We have now Got through with the Whole of the declaration, and... you will soon have the pleasure of seeing it.
..
Read all quotes by Caesar Rodney
Discussion